Lord Kroak in Contrast Paints - Part 4
And here we have it, the final part of 'Kroak in Contrast', Kroaks chair… throne?.. final resting place? Who knows. Can a dead frog sit on a chair, or are they just placed? Anyway, here goes nothing!
The bit I am calling 'the chair', I split into 3 parts, the main bit of the chair, the skink bodyguard and the chair backing/header thing.
You can find my previous posts for Kroak here:
What it looks like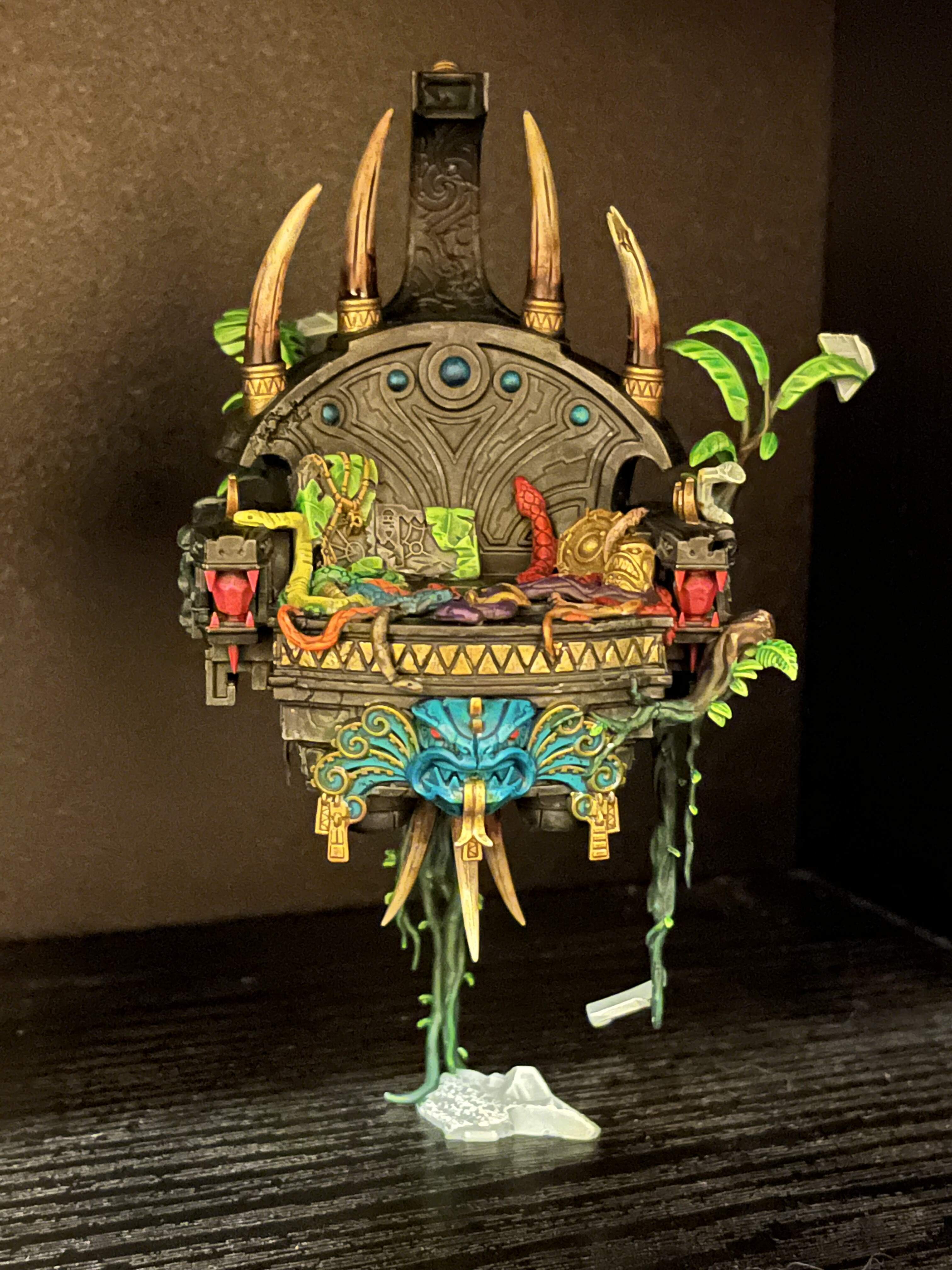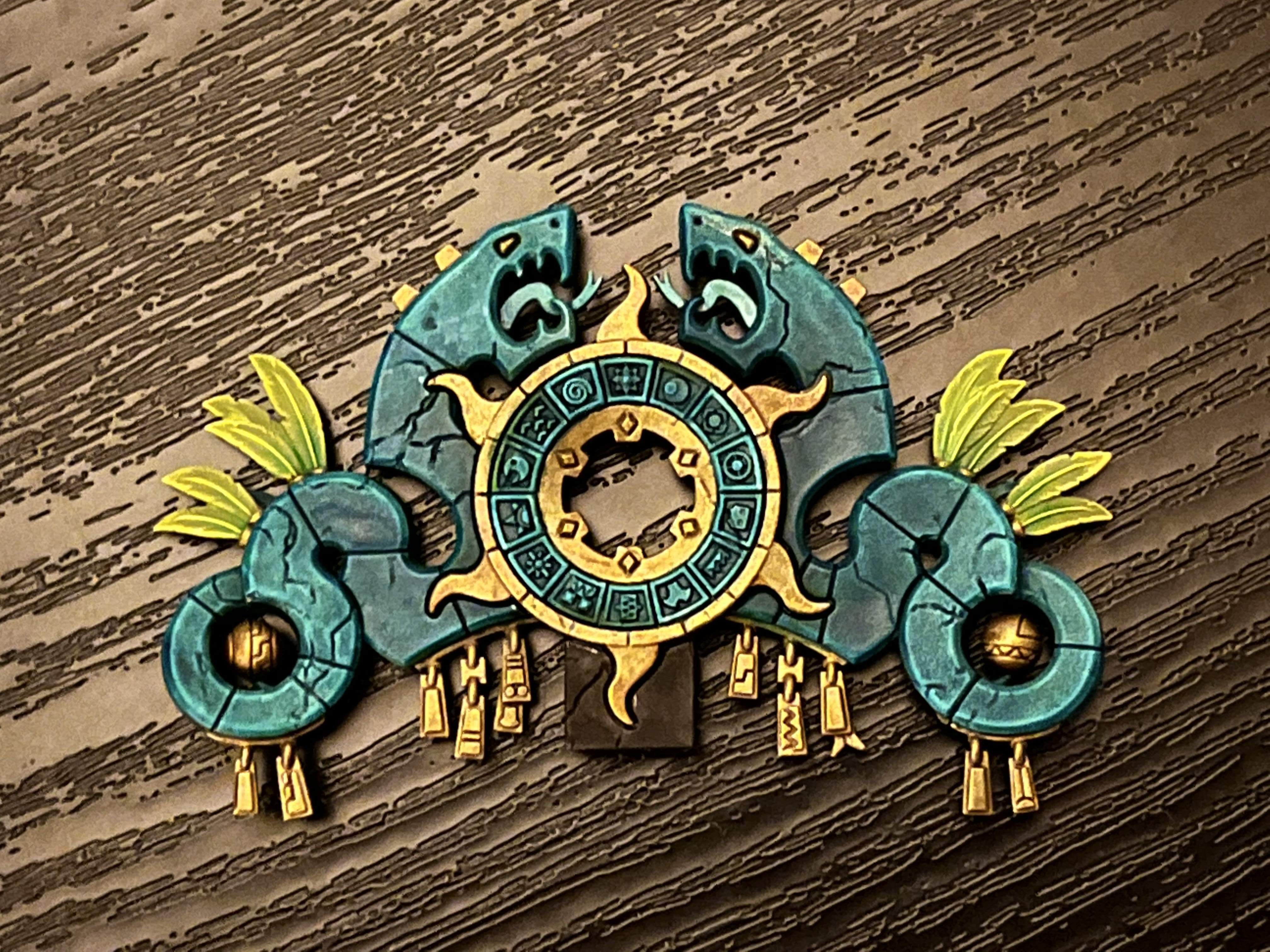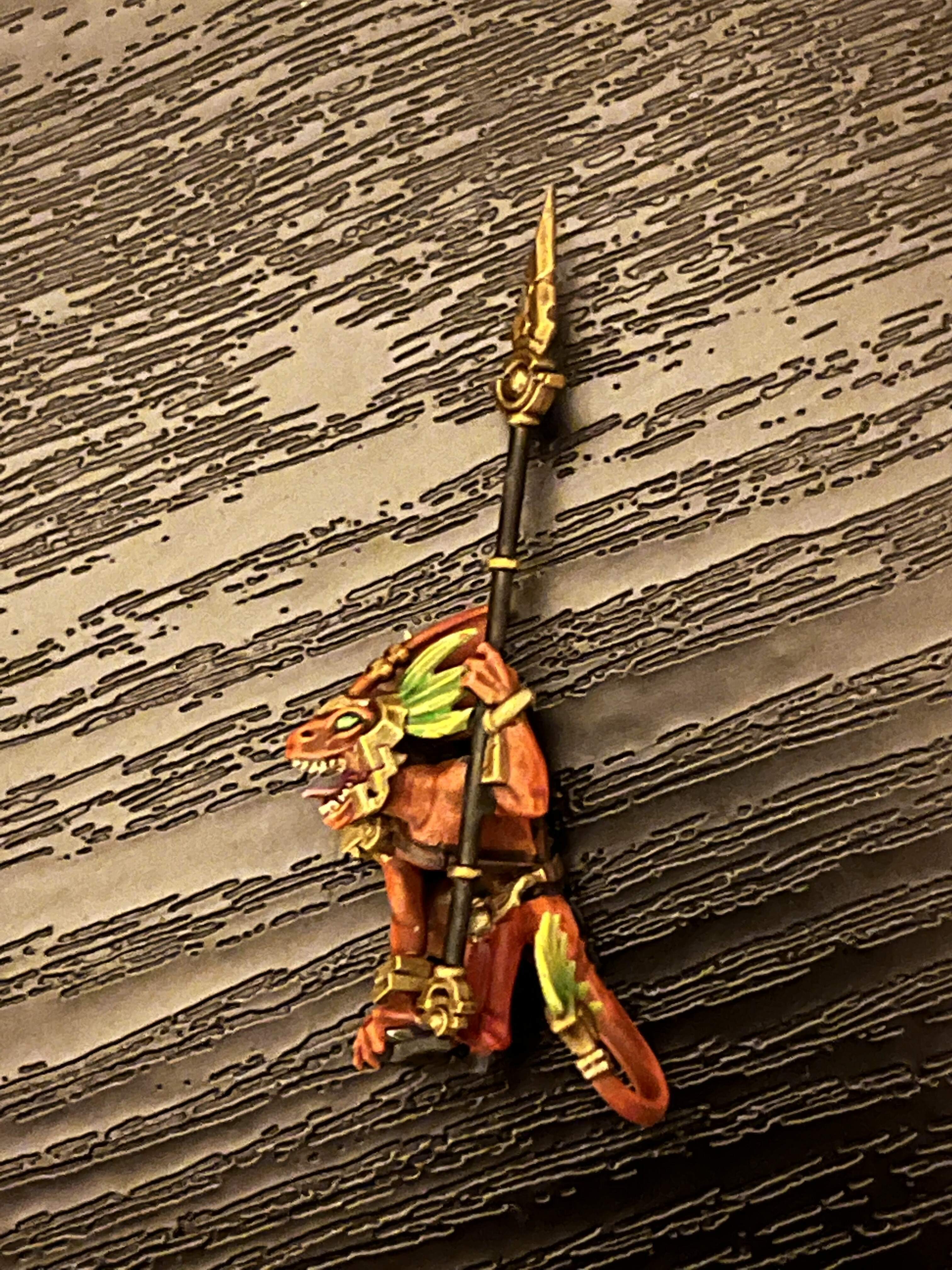 Instructions
Floaty Chair
I started by coating the whole chair and the back arch in Space Wolves Grey, this was followed by Black Templar
The frog face at the bottom of the chair I used Kroxigor Scales
For the vines I did a little wet blending up to the more tree like structures going from Dark Angels Green to Wyldwood
The leaves are Striking Scorpion Green
For all the Gold bits I did my now traditional Leadbelcher followed by Nazdreg Yellow
I finished the gems with Akhelian Green
The Snake eyes, teeth and jewel are Doom Fire Magenta
For the blue 'engine'? bit at the back I wet blended from Frost Heart through Stormfiend to Terradon Turquoise
The eyes on the frog face were finished with some Baal Red
Sadly… I did not write down what I did for horns :( It was something like… wet blending between Wyldwood and Skeleton Horde… I think I did a coat of Skeleton Horde first, then slapped a load of Wyldwood at the bottom and kind of dragged it up through the still wet Skeleton Horde
Lastly, I did the snakes, and you should just have fun here… realistic, unrealistic, do what you like! Personally I like colours :D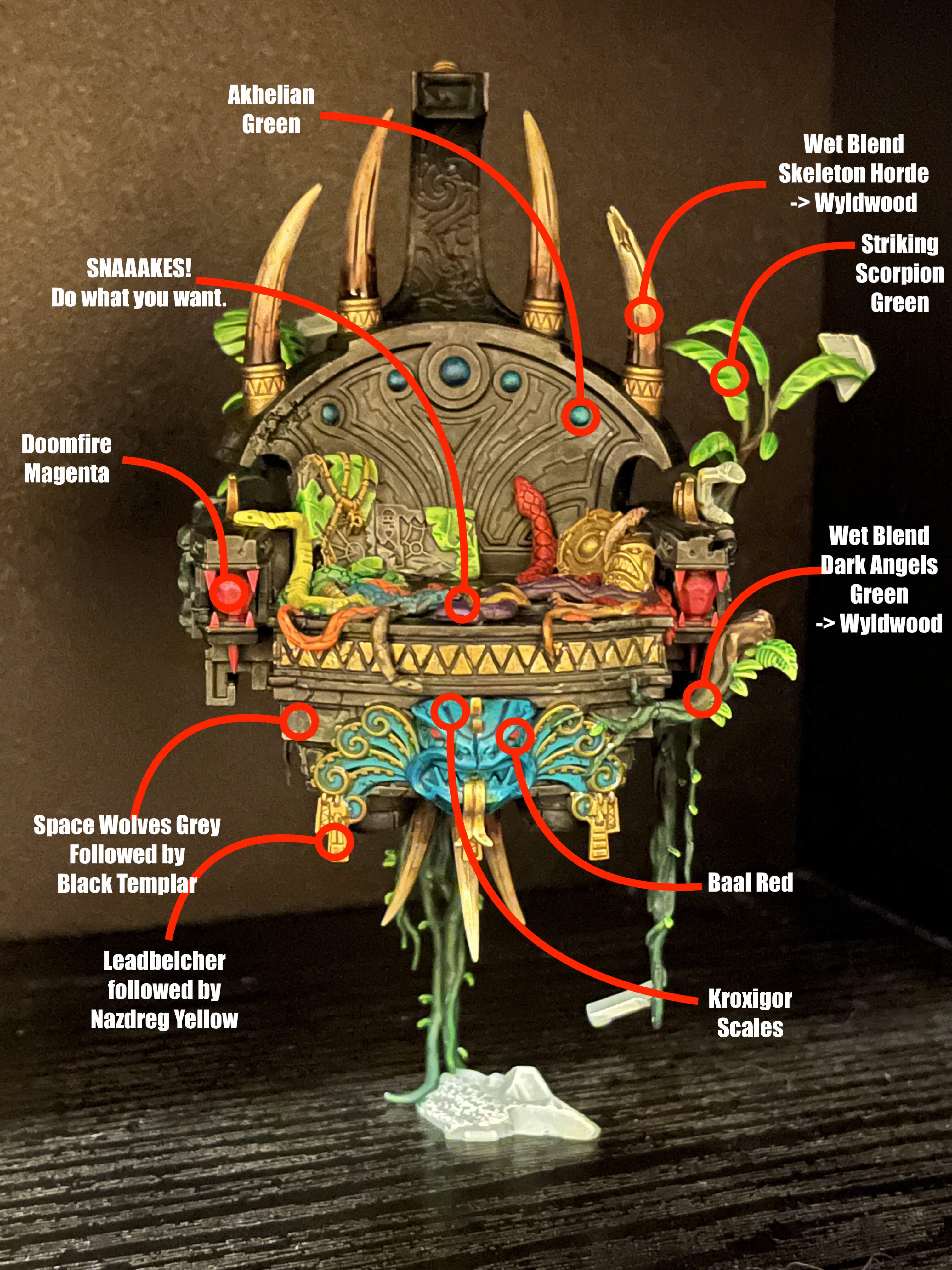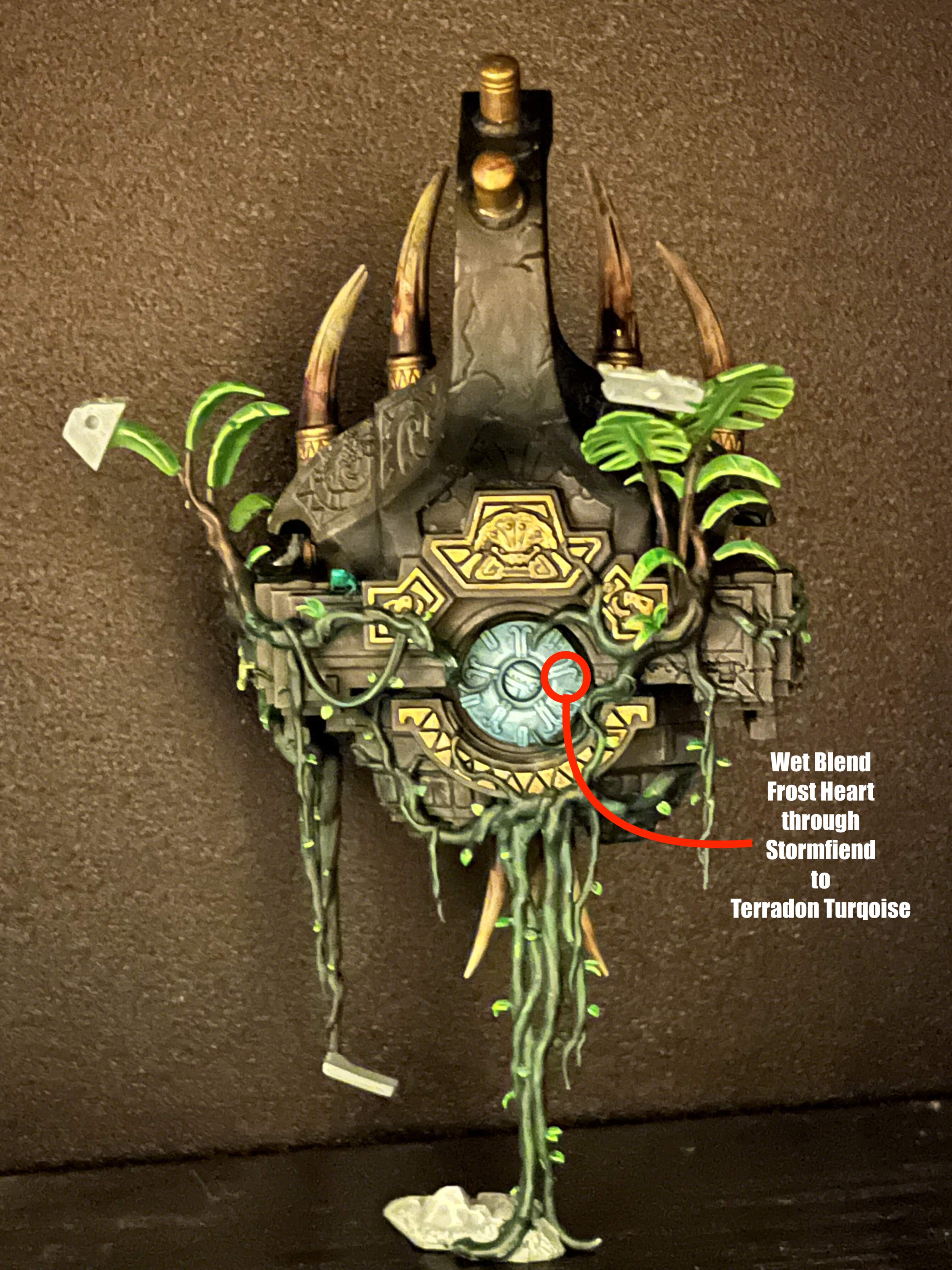 Over chair/chair backing
For all the Gold bits I did my now traditional Leadbelcher followed by Nazdreg Yellow
The snake tongues were done by first re basecoating in Corax White. This was then finised with a 50/50 mix of Kroxigor Scales and Contrast Medium
For the feathers, I wet blended Bad Moon Yellow and Striking Scorpion Green focusing the green on the centre and base of the feather
The rest of the stone was then done in Kroxigor Scales. After doing one coat, I then went back with multiple thinned coats (50/50 with Contrast Medium) working towards the centre. This was to make the centre seem deeper and richer.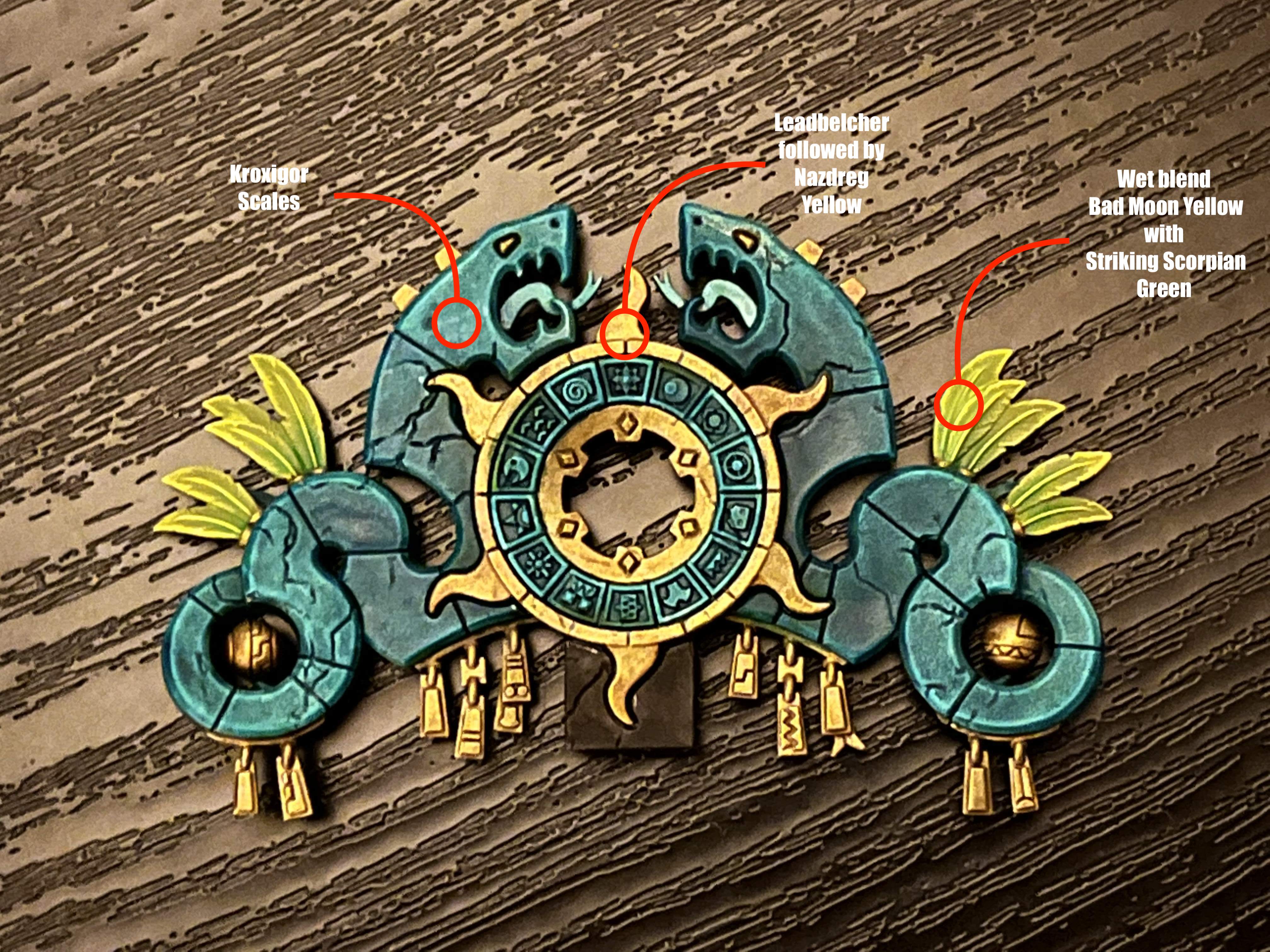 Skink
The skink was done to match the rest of the skinks in my army
The skin is a coat of Gryph Hound Orange
For all the Gold bits I did my now traditional Leadbelcher followed by Nazdreg Yellow
They eyes are rebased with Corax White and then Warp Lighting. I then draw a think black line down the centre using Black Templar
The teeth and claws are rebased with Corax White and then coated in Skeleton Horde.
For the scales, its a coat of Black Templar, with an edge highlight of Temple Guard Blue.
The spear shaft is Black Legion
The random straps and what not are all Garaghak's Sewer
Lastly, for the feathers, I wet blended Bad Moon Yellow and Striking Scorpion Green focusing the green on the centre and base of the feather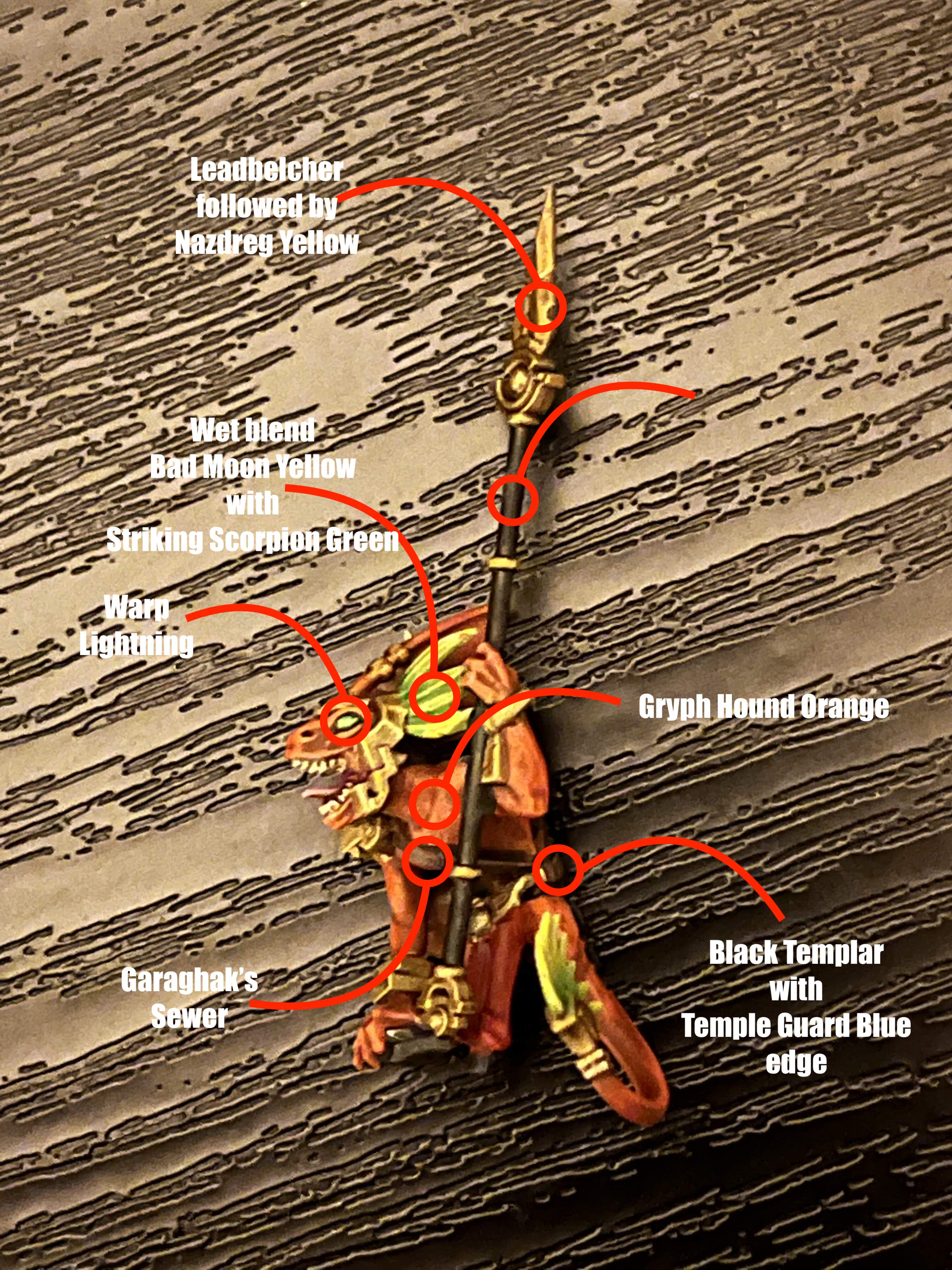 Next time
There is no next time, at least not for Kroak! Model painted :D